Which apple is our favorite for juicing?
It might not be the best apple for eating, but this inconspicuous little green apple is incredible for juicing!
The best apple varieties for juicing
Not all apples are created equal. They can vary widely in terms of sweetness, firmness, juiciness, and size. The best apples for juicing are ones that are firmer, more tart, and with a high juice content. On the other hand, apple varieties for eating tend to be softer and sweeter. Here are some of the best varieties for juicing.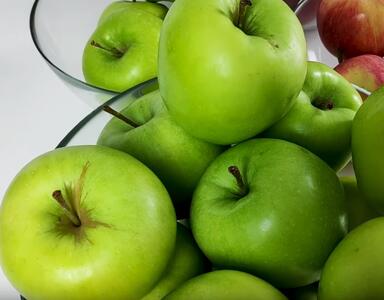 granny smith
#1 Granny Smith
Our favorite apple for juicing, the Granny Smith is unique due to its tart flavor and very high juice content. The tart flavor that makes it a popular variety for baking also makes it great for juicing. That's because that tartness helps the juice to last longer and not oxidize, unlike sweeter apples. It's also lower in sugar and healthier than most apples. Finally, the tartness provides an excellent balance to leafy greens, which can sometimes be bitter. Granny Smith apples make a great foundation for a green or vegetable juice combination.
Juice content: Very high
Flavor: Tart
Texture: Firm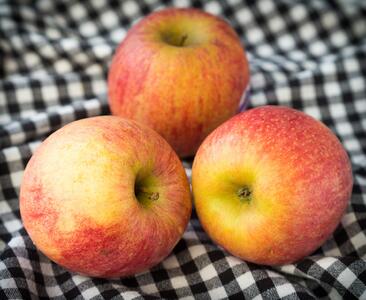 fuji
#2 Fuji
A classic variety know as a great eating apple, the Fuji also makes excellent juice. Developed in Japan, Fuji apples are big, juicy, and store exceptionally well so are available year round. The storage ability means you have a better chance of getting a juicy apple in a store than with other varities that lose their crispiness more quickly. 
Juice content: Medium high
Flavor: Sweet but light
Texture: Firm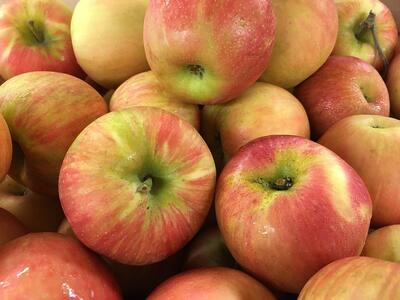 honeycrisp
#3 Honeycrisp
The Honeycrisp is known in some circles as a designer apple, and commands a price premium up to three times more than typical apple varities. Despite this high price, demand remains very high for Honeycrisp because of it's super-crunchy flesh and sweet juciness. The reason for the high price is not only demand, but also because it is a difficult apple to grow, and only about half the fruit makes it from the tree to market. It's rare in Europe, but sometimes found here called Honeycrunch.
Juice content: Very high
Flavor: Sweet
Texture: Firm and crisp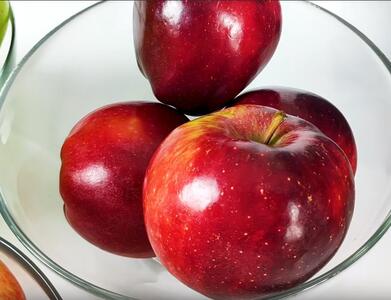 red delicious
#4 Red Delicious
The Red Delicious is the typical "lunchbox" apple that is commonly found in grocery stores, hotel breakfast buffets, fruit bowls - really anywhere where it can be displayed. That's because the Red Delicious is a beautiful apple, with a dark and intense red color. However, the flavor is almost the opposite of the intense color. It is a very mild, almost bland apple. However, that dark peel helps improve the juice, by giving it a rich darker color. Note that Red Delicious are often sold with a shiny wax coating, which should be avoided for best juicing results.
Juice content: Medium
Flavor: Sweet 
Texture: Medium to slightly firm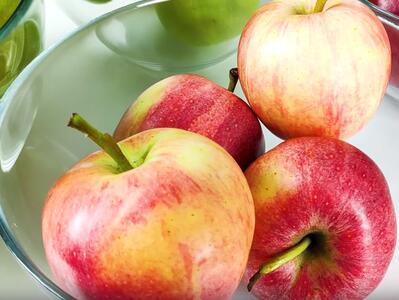 gala
#5 Gala
In 2018, Gala surpassed the ubiquitous Red Delicious as the most widely grown apple in the USA. Gala apples are mild and slightly sweet. They can be easily recognized by their colorful patterns - usually vertical red stripes on a white/yellow background. 
Juice content: Medium
Flavor: Mild
Texture: Medium firm