Juicing nettles | How to do it | Recipies
Nettles are like a small miracle. They cleanse the blood and thus heal the whole body. And did you know that nettle juice has exactly the same effects as nettle tea? It's just easier to make nettle juice.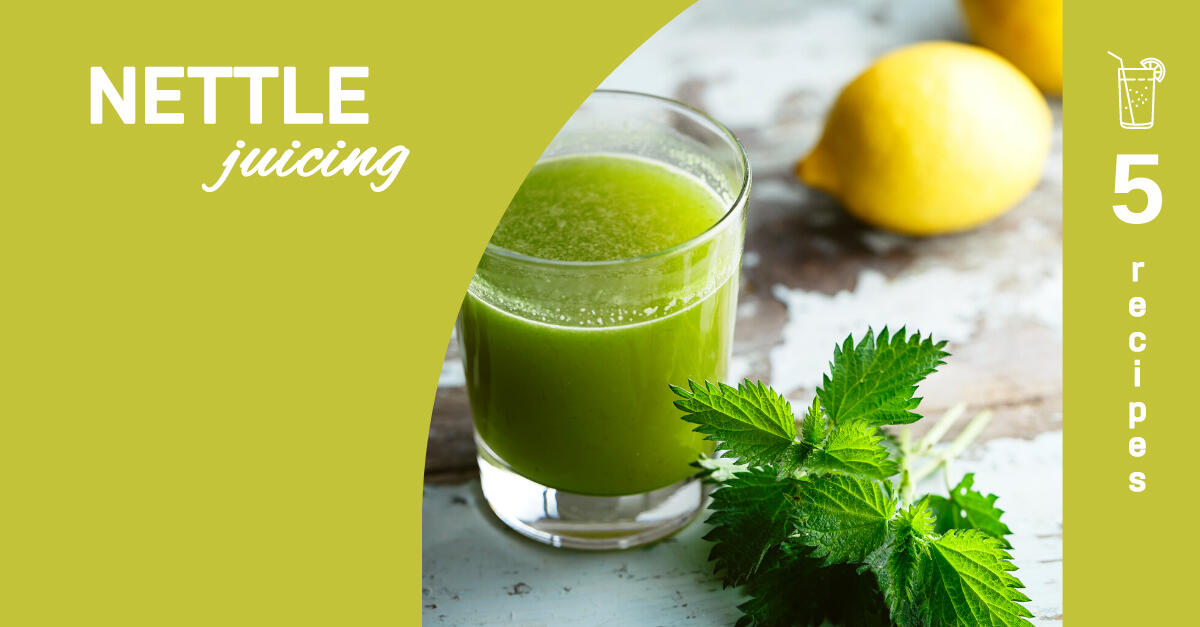 nettle juicing
How do you juice nettles?
When it comes to juicing, nettles are treated the same as leafy greens. It works best in a single auger, twin-gear, or mechanical juicer.
Only collect young leaves for juicing. Make sure to harvest with scissors and gloves.
Wash the leaves at home and leave them soaked in water for two hours. You will get more juice from them.
Only put leaves in the juicer, not the stems. 
Nettle juice is similar in flavor to spinach juice. The taste is delicate, not too strong. It also mixes well with carrot juice.  And don't worry, it doesn't sting.
Nettle juice and nettle tea are equally effective as a health supplement.  
You can do a spring nettle cleanse using nettle juice. All it takes is a small shot - drunk either alone or mixed into other juices. Don't do it longer than ten days, as it is a powerful herb.
Nettle is effective an cleansing the blood. After a nettle cleanse, you will notice more energy, alleviation of eczema, acne and psoriasis. It also helps with rheumatism or digestive problems.
Nettle juice is not suitable for people with weakened kidneys.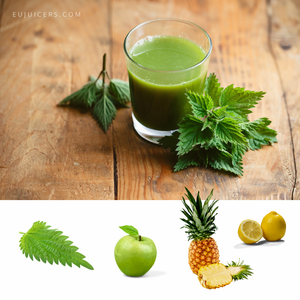 kopřivová šťáva
Nettles with pineapple
handful of nettle leaves
1 green apple
1/4 pineapple
1 lemon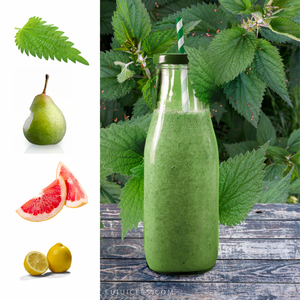 kopřivová šťáva
Nettles with pear and grapefruit
handful nettle leaves
1 peasr
1 grapefruit
1 lemon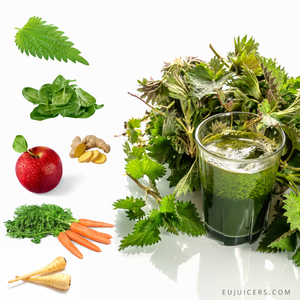 kopřivová šťáva
Vegetable mix
handful nettle leaves
2 handfuls spinach leaves
1 apple
6 carrots
1 parsnip
2 cm ginger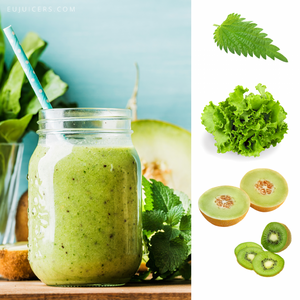 kopřivová šťáva
Tropical mix
handful nettle leaves
3 large leaves romaine lettuce
300 g golden or honeydew melon
3 kiwi
Tip: The kiwi doesn't need to be peeled if you cut it into quarters.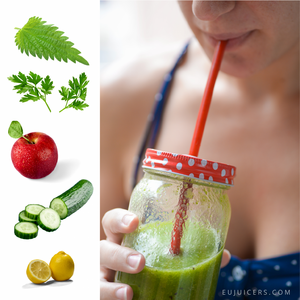 kopřivová šťáva
Hydration mix
handful nettle leaves
handful smooth-leaf parsley
1 apple
1 cucumber
1 lemon
# 1 Twin-gear juicers are the best juicers for leafy greens. They  are also easy to use, because teh twin gears pull in leafy greens without the need for a pusher. They also give the highest yield.
# 2 Single auger juicers do a great job with leafy greens. They do not have the same yield as twin-gears, but they are the most popular. This is due to their versatility, ease of use, and easy cleaning.
# 3 Mechanical juicers are generally good for greens. The quality of the juice is amazing, the yield is good. The only drawbacks are the physical effort needed to turn operate them, and the limited types of produce for which they are suited.
# 4 Centrifugal juicers aren't designed for leafy greens.  There will be little juice yield, and more of a "wet salad" result.