What if a juicer and a blender had a baby?
What chops like a blender, looks like a juicer, and can survive the apocalypse?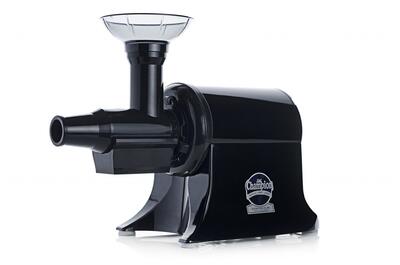 1606_champion-black
Welcome to the 1950's
Champion started manufacturing their iconic masticating juicer back in the 1950's. Since then, not much has changed. Using a Champion is like going back in time to visit my Grandma's kitchen 50 years ago. Just try to pick it up and you will immediately see this is like no other juicer around. Weighing in at about 12 kilograms (27 pounds), the Champion really feels like a solid old-fashioned appliance. That is because it is basically a large industrial motor mounted in a solid steel body. It feels light years more solid than today's plastic-clad juicers.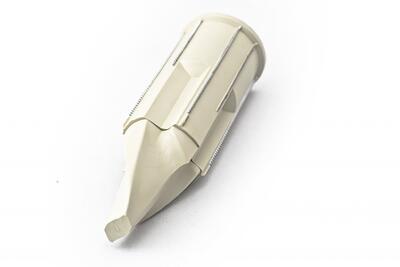 1605_dsc_2034
What's a masticating juicer?
Masticate means "to chew", just like with your teeth. And looking at the auger, you can see why the Champion is really the only true masticating juicer. It has rows of sharp tiny metal teeth which chew and shred produce down to the pulp. That shredded pulp moves down the auger where it is pressed against the juicing screen and the juice is squeezed out. It combines the shredding action of a blender with the squeezing action of a slow juicer. And even though this is 1950's technology, it works pretty well. It quickly "ate" all the carrots we could feed it and produced surprisingly high yields of juice. In fact, it yielded more juice than our top slow juicing champ. That's because the high speed whips up the juice, and some pulp is pulverized and remains almost undetectable in the juice, allowing for an increased yield.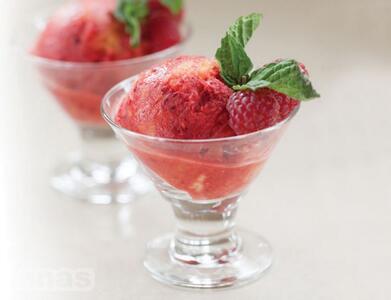 mango berry
The ultimate sorbet machine
We prefer slow juicers, because the low rpm makes healthier juice. This Champion, similar to a centrifugal juicer or a blender, runs at a high speed which can heat and oxidize the juice. This is minimized if the juice is consumed immeditely when it is made. However, this high speed cuttng and squeezing action makes the absolute best sorbets of any machine we've seen, even dedicated sorbet makers. That's because there is a "blank screen" included with the Champion. What this does is basically plug the juice outlet, so everything fed into the juicer is chopped to a fine consistency, mixed together, compressed, and squeezed out. Put in a couple of frozen bananas and a handful of frozen strawberries and in less than a minute you'll have a bowl of the most amazing tasting and absolutely smooth sorbet. It also will turn nuts into nut butter very quickly. The high speed cutting heats and releases the oil in the nuts, making for a very smooth peanut or cashew butter.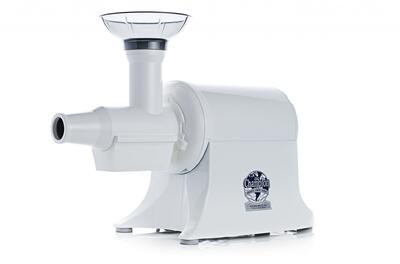 1447_champion-white
Who is it for?
Maybe the biggest shock with the Champion juicer is the price. For something made from solid steel - even the juicing chamber is stainless steel with a nylon shell - it is surprisingly inexpensive and cheaper than most slow juicers. However, while it benefits from 1950s-era build quality, it also suffers from 1950's-era technology. Its great if you want to make juice from fruits and hard vegetables and will drink it immediately. It's also great as an industrial-quality sorbet and nut butter machine. On the other hand, this technology isn't designed to handle leafy greens like spinach. You'll need a slow juicer for that. You'll also want a slow juicer if you want to maintain the highest levels of vitamins and nutritents, or if you want to store juice for later consumption. But overall, the Champion juicer is a delightful throwback to when appliances were built like tanks, and ran like them as well.