Omega Mega Mouth Juicer review: sorbet, cashew butter, almond milk, and strawberry smoothie
The Omega MMV "Mega Mouth" is more than just a juicer. It is also a multi-function appliance which can be used all year to make a wide variety of healthy snacks.
In our juicing tests, the Omega Mega Mouth performed admirably, at the level of other premium vertical juicers. It juices very quickly, was easy to use, and cleanup was fast. The wide opening was especially useful for small leafy greens like spinach. But the Mega Mouth is unique among many verticals because it makes more than just juice. We filmed a video to show some of the surprising things it can do.
What do we try in the video?
#1 Ice cream/sorbet
It may sound hard to believe, but you can make ice cream just from fruit that tastes better than store-bought ice cream. You can make an icy sorbet using peaches, berries, mangos, and more. And for a rich flavor, add bananas or even avocados to get a creamy texture
Insert the homogenization screen.
Let frozen fruit thaw 5-10 minutes and process.
Take a look at how it did with mango sorbet.
#2 Nut butter
Trying to find a good and healthy nut butter in a store can be difficult, as most are loaded with added ingredients like sugar, hydrogenated oils, and preservatives. Doing it yourself with the Mega Mouth is super easy. We tried it here with cashews.
Insert the homogenization screen.
Mix roasted cashews with a little sunflower oil.
Spoon the cashews into the juicer.
Add more or less oil, depending on how smooth a consistency you prefer.
See how to make cashew butter with the MMV.
#3 Nut milk
Almond or other nut milks are a great alternative to dairy milk. And making it in a vertical juicer is very simple.
Soak almonds for 6-8 in water to soften, then drain and rinse them.
Pour water into a pitcher - for one part almonds use two parts water (i.e. 500 grams almonds and 1000 ml water)
Insert the fine screen and close the juice tap.
First put in the almonds. After the almonds are crushed into a paste, add enough water to fill the juicing container 3/4 full.
Add almonds until the juicing container is full. Let it run a minute to get the most almond goodness, then pour out.
Click here to go to the 7:22 mark of the video, where we show how to make almond milk!
#4 Stawberry smoothie with almond milk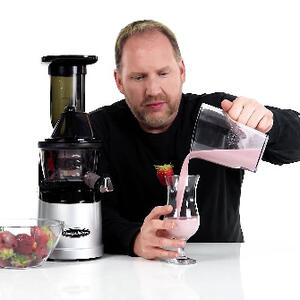 Most people make smoothies in a blender. With the MMV, you can make a smoothie quietly and gently, without any of the high-speed oxidation that blenders create.
Insert the smoothie screen.
Close the juice tap.
Pour in almond milk (or other milk or yogurt).
Put in the strawberries.
Let it mix together until deep pink, then pour the smoothie into a glass.
See the complete video here
Published: 30. October 2017