Don't throw away that pulp: Oatmeal cookies
Another clever use of leftover pulp from your daily juicing.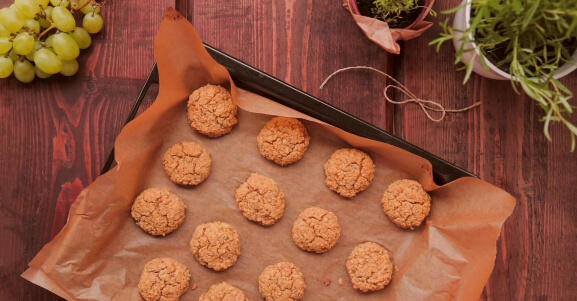 According to the United Nation's Food and Agriculture Organization, almost half of all fruits and vegetables produced are either lost or wasted. The reasons include people buying too much and throwing out what they don't use, some produce not looking attractive enough to eat, or only consuming part of a fruit or vegetable and discarding the rest. When you juice, you are extracting the most concentrated and nutritious part of the produce, but the leftover pulp can still be useful. Last time we showed you how to make vegetable broth from pulp. Today we'll show you how to use pulp to make delicious oatmeal cookies. 
Ingredients
3/4 C pulp from juicing (any pulp works but carrot and apple are ideal)
1/2 C oatmeal
1/2 cup flour (ideally whole grain)
4 tablespoons vegetable oil
2 tablespoons sugar or other sweetener
1 teaspoon cinnamon
1 small handful of sunflower seeds
Directions
In a medium bowl, mix together the oatmeal, flour, sugar, cinnamon, and sunflower seeds. Add the oil and fresh pulp and mix together to form a dough. If it is too dry, add a little more oil or some of the juice you just made. If it is too moist, add a little more flour. Roll it into small balls and flatten them a bit into circles. Bake for 10-15 minutes at 180 °C. Alternately you can dry them in a dehydrator for 8-10 hours at 40C.
Makes 14 cookies
Published: 19. March 2018